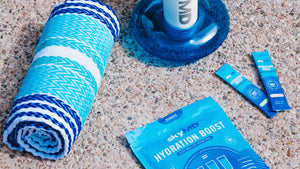 On-the-Go I.V. Alternative
Hydration Boost Technology
Our advanced Hydration Boost Technology (HBT)™ is at the apex of wellness formulas with just the right balance of electrolytes and nutrients for optimal osmosis, delivering hydration to each cell in your body 2-3x faster than water alone.
How We Stack Up
With a fraction of the sugar and more vitamins, electrolytes, and minerals, you get more of what you need and less of what you don't. The end result is faster, more effective hydration without the sugar crash you may be used to. You can literally taste the difference in our formula.
We use 70% less sugar than the alternative hydration packets. This contributes to a more natural, flavorful taste that will have you looking forward to the next packet. If you want all the benefits of a hydration formula without the sugar crash that follows, stick with SkyMD.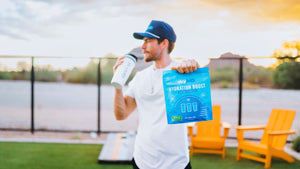 HYDRATE HUMANS WORLDWIDE
With each purchase, we donate one serving to a community in need.
Our Mission
Shop Now
Choose Your skyMD
Select your favorite products and
pick your ideal delivery frequency
at a discounted price.
Check Your Mail
Receive your order shortly after
your subscription charge and enjoy
a life more hydrated!
Hydrate Your Way
Edit your products and delivery
frequency so you'll always have the
right amount. Cancel anytime.
★★★★★

Exactly what I was looking for. Simple, clean taste and extremely hydrating. Found my tried and true. skyMD just gained a customer for life.

Natalie A.

Los Angeles, CA
★★★★★

I've tried almost every electrolyte powder out there and all I can say is wow! I felt instantly energized – can't wait to try the other formulas!

David N.

Atlanta, GA
★★★★★

Actually made a huge difference in my busy mornings. Tastes absolutely delicious and 100% does its job. Will be recommending this to everyone I know.

Amanda J.

Chicago, IL
Follow @tryskyMD
Welcome to #skyMD! Tag @tryskyMD for a chance to be featured on our page.