Hydration + Greens
---
What Makes SkyMD Energy Boost So Special?
Why is our Energy Boost Formula so special? Simple - not only do you get 125mg of caffeine in every packet, but you also get rapid hydration to keep you thriving all day long. Hydration is the basis of everything we do at SkyMD - because if you're dehydrated, no amount of caffeine or extracts will save you. So, we've formulated our Energy Boost packets to tackle dehydration first and foremost. 
Of course, you'll also enjoy a lift in energy. One packet is equivalent to 1-2 cups of coffee in terms of energy-boosting capabilities. The formula is shown to support memory, improve cognition, increase endurance, elevate mood, and offer laser focus so you can perform at your best. With SkyMD, you get all this without that crash you're used to with the alternatives. Whether you're in the office or in the gym, let us be the boost that helps you gain an edge to get to that next level. 
Drink Smarter, Not Harder!
Water alone isn't enough to beat dehydration. It lacks the vitamins and minerals you need to achieve peak hydration and stay there. SkyMD serves as a boost to your water - making it more effective and efficient at hydrating you. This is all possible through HBT™ (Hydrating Boosting Technology). With just the right balance of electrolytes and nutrients for optimal osmosis, SkyMD delivers hydration results 2-3x faster than water alone. You'll never look at hydration the same again once you feel the difference yourself.
Nootropic Energy Support
Typical energy-boosting solutions are overdosed and underperforming. Our scientists have taken a different approach with our Nootropic Energy Support Formulation. We've combined natural caffeine with Ginkgo Biloba, DMAE, and other key ingredients for smooth, long-lasting energy without the crash. 
Beneficial Amino Acids
We've also included beneficial amino acids like L-theanine, L-tyrosine, and more to not just boost hydration and energy - but reduce anxiety and improve your overall mood.
4x The Electrolytes
Typical sports drinks claim to offer the electrolytes you need for sustainable energy and rapid hydration - but they fail to deliver results. That's why we've blown them out of the water with 4x the electrolytes in our formula.
Less Sugar, Better Taste Than The Competition 
Compared to the competition, our formula features 69% less sugar at just 5 grams. Not only is our formula better for you - it tastes much more natural. No sugary, grainy, chalky aftertaste, either!
Explore Other Hydration Formulas We've Created
Our Energy Boost formula is a must-have to help you battle through those mid-day lulls. Next time you feel your energy dropping and you need a quick pick-me-up, stick with our natural solution. Unlike coffee, energy drinks, or other sugary solutions, you'll be gaining the advantages of rapid hydration along with a boost in energy. 
But, Energy Boost isn't the only formula we've designed for you here at SkyMD. Take a look at the other hydration IV packets we've got to offer. From immune-boosting solutions to sleep-enhancing formulas, we're here to help you optimize all areas of your life - with hydration at the forefront of all that we do.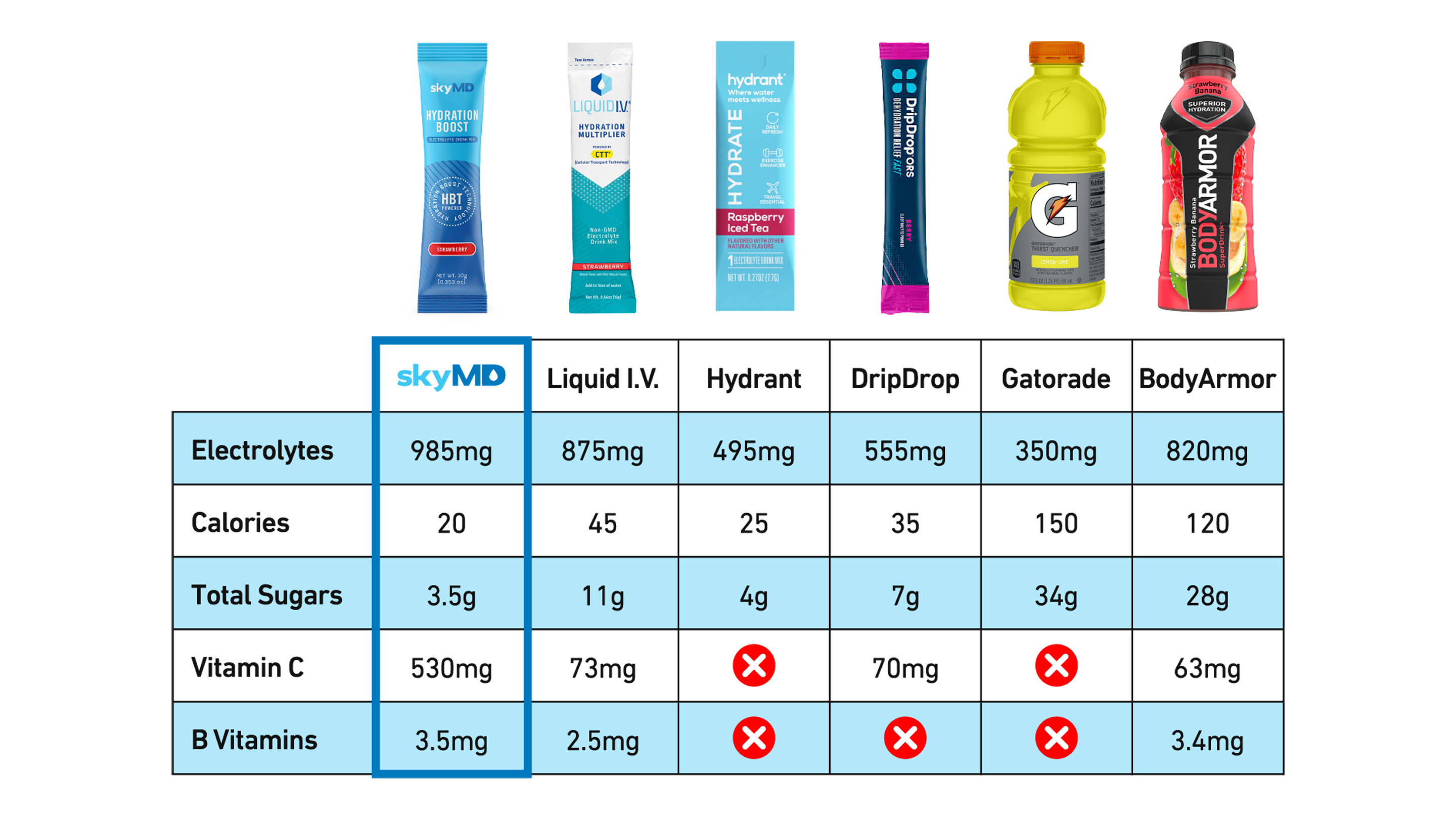 Are You Hydrated?
Only 1 in 4 people are properly hydrated. If you're feeling any of these symptoms this is probably you: fatigue, headache, dry mouth, confusion, muscle cramps and dizziness. So, why drink 3 glasses of water when you can drink one serving of Hydration Boost?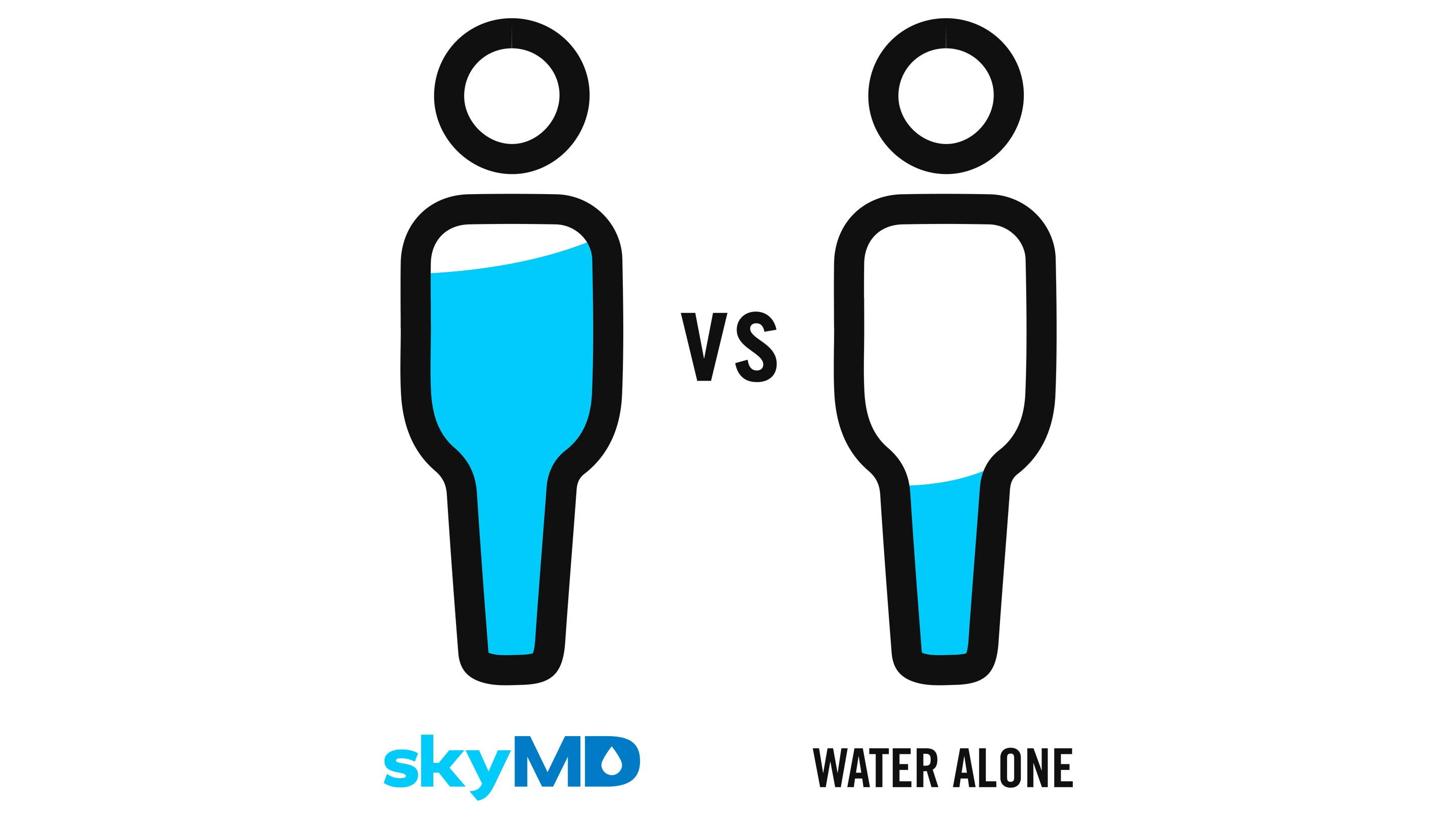 Feel Great. Fast!
Quench your thirst with skyMD Hydration Boost! It's found to help with muscle endurance, increased metabolism, improved complexion, enhanced natural energy and improved joint health.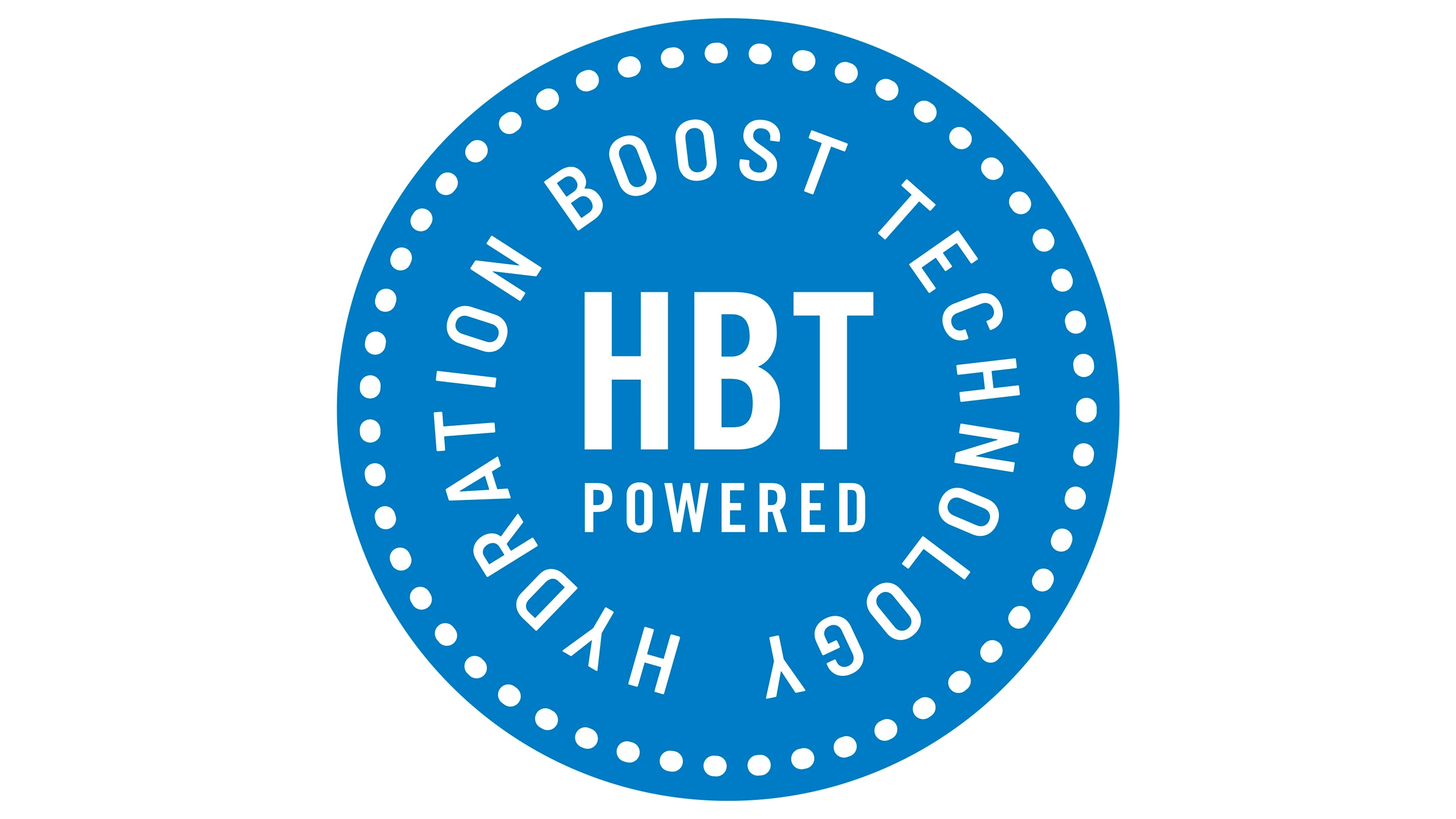 Hydration Boost Technology (HBT)™
Our advanced Hydration Boost Technology (HBT)™ is at the apex of wellness formulas with just the right balance of electrolytes and nutrients for optimal osmosis, delivering hydration to each cell in your body 2-3x faster than water alone.
Hydrated Customers
Exactly what I was looking for. Simple, clean taste and extremely hydrating. Found my tried and true. skyMD just gained a customer for life.
I've tried almost every electrolyte powder out there and all I can say is wow! I felt instantly energized – can't wait to try the other formulas!
Actually made a huge difference in my busy mornings. Tastes absolutely delicious and 100% does its job. Will be recommending this to everyone I know.
This product has no reviews yet.