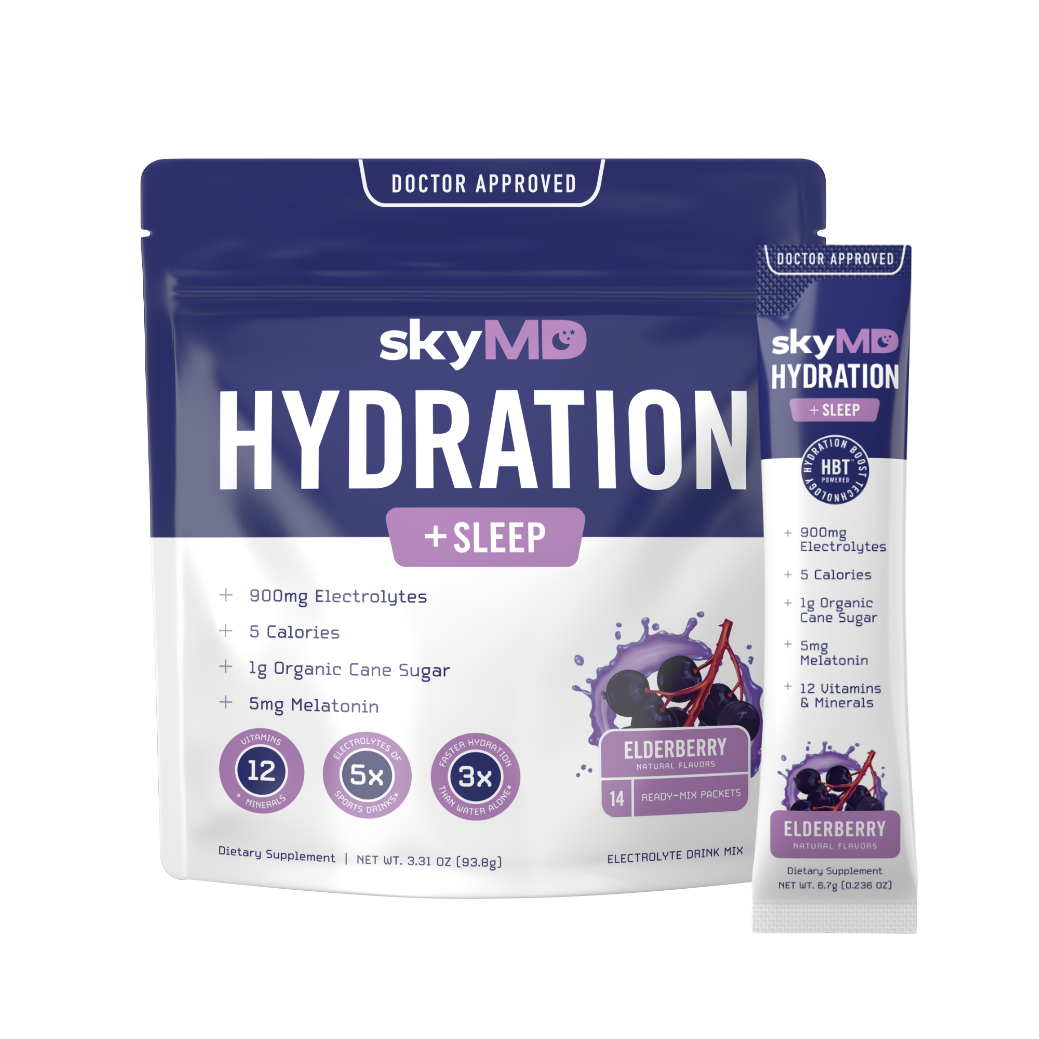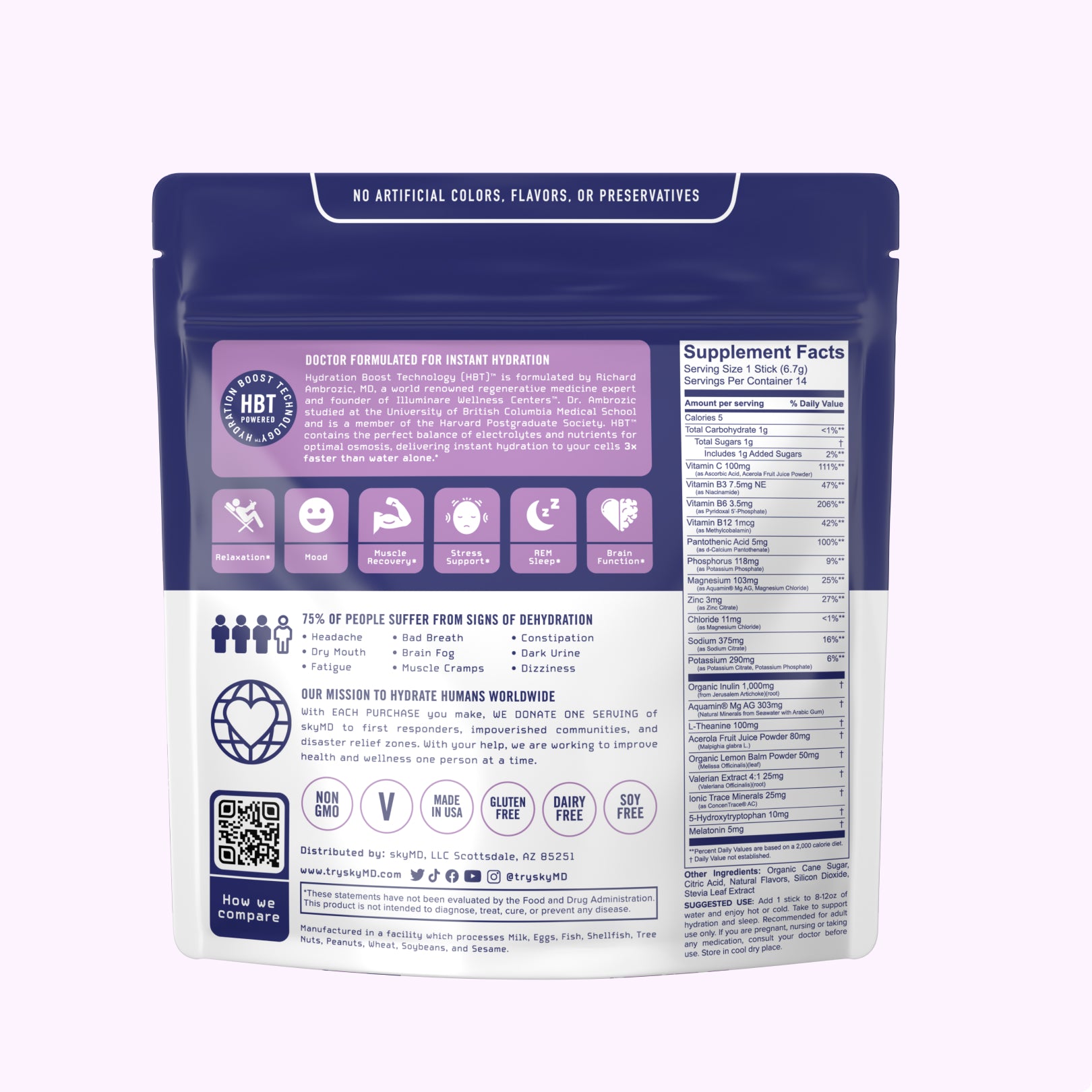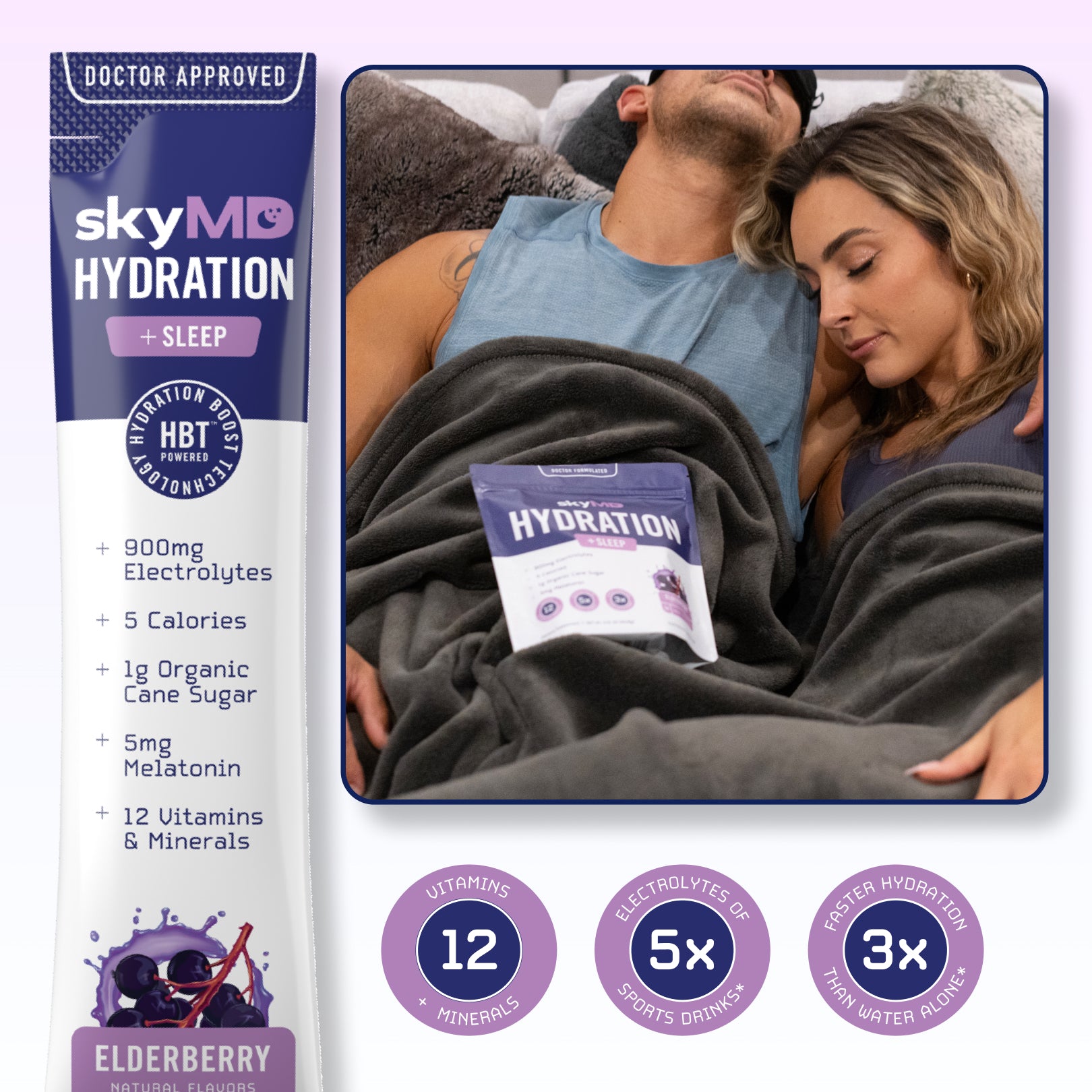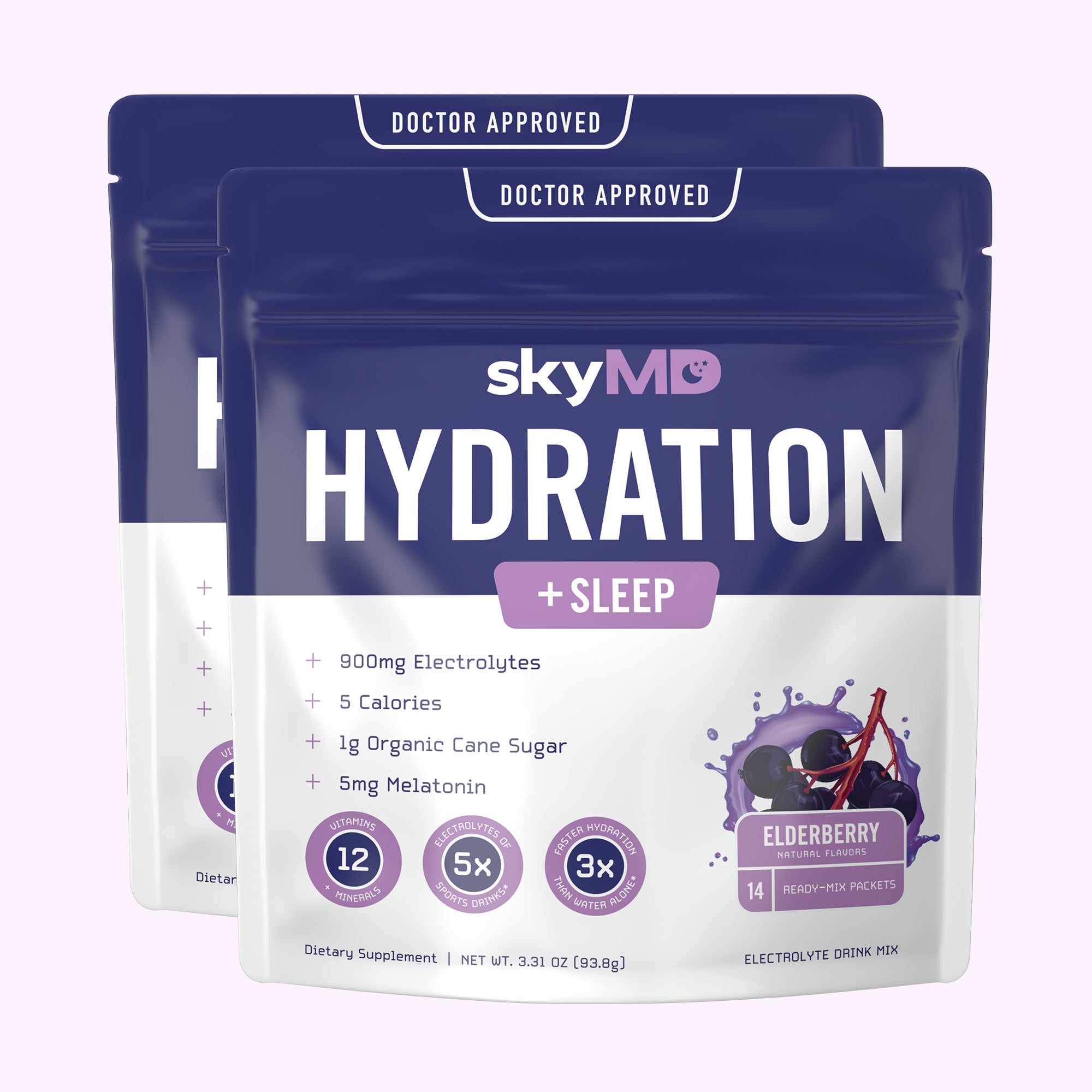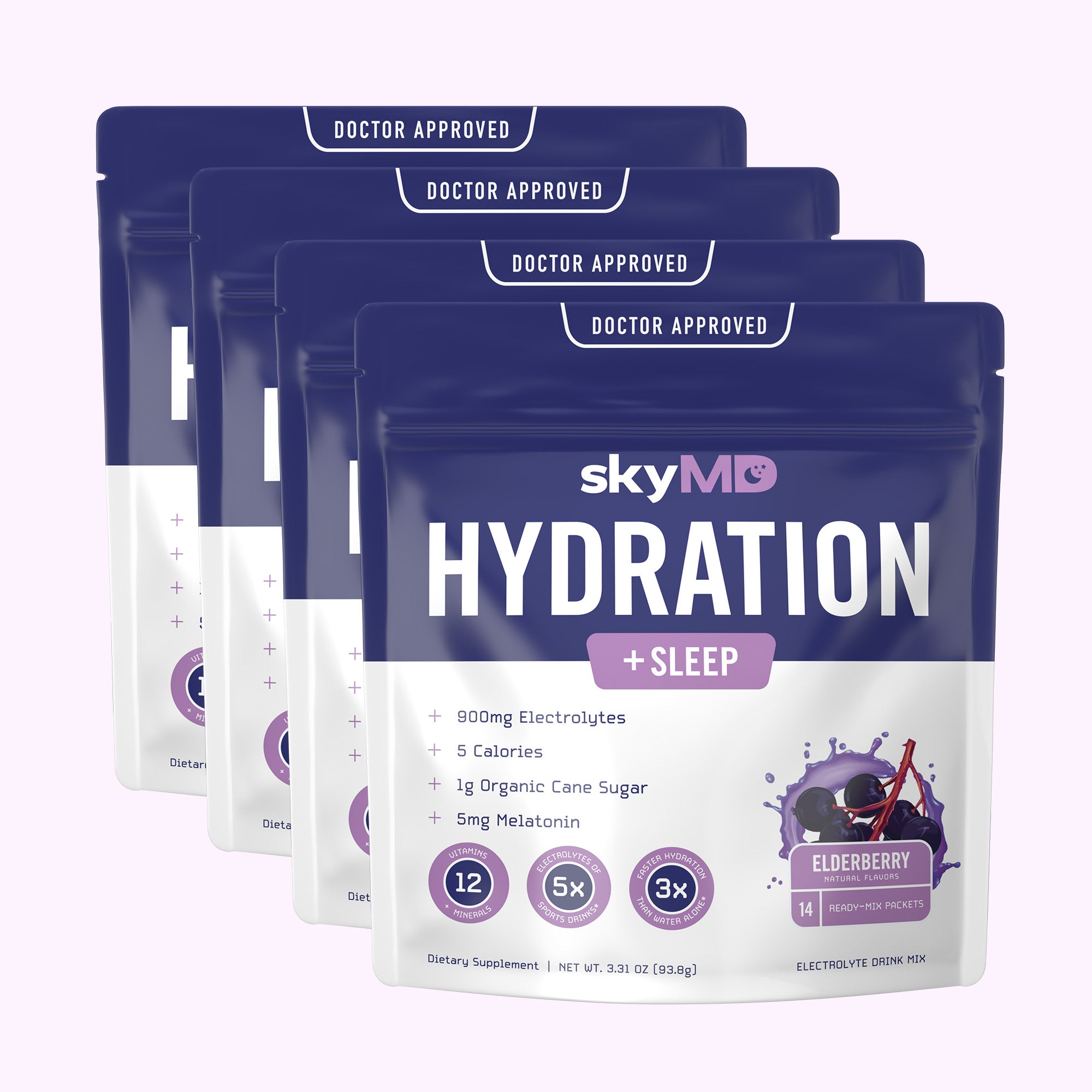 HYDRATION
+ SLEEP
Electrolyte Drink Mix
Subscribe & Save 15%
Modify, skip, or cancel at any time
---
Hydration + Sleep - Supplement Facts
SkyMD offers FREE shipping on orders $40+ 

All orders ship within one business day via DHL or UPS from our warehouse located in Wisconsin. 

Orders typically take 3-5 business days to be delivered. 

Tracking information is provided via email from info@tryskymd.com upon shipment of your order.
Not satisfied? We offer a 100% money-back guarantee. Please reach out to us at info@tryskymd.com within 30 days to request a refund.
5x electrolytes of sports drinks          DOCTOR APPROVED          3x faster hydration than water alone
Doctor Approved for Instant Hydration When you Need it Most.

75% of People Suffer From Signs Of Dehydration Everyday.
Backed by science
Hydration Boost Technology (HBT™)
Hydration Boost Technology (HBT™) utilizes a sodium-glucose co-transport system (SGCT) which is highly effective in electrolytes as it facilitates the simultaneous transport of glucose, sodium and other nutrients into cell membranes. This plays a crucial role in maintaining proper daily hydration levels and is particularly beneficial during intense physical activity, illness, or situations requiring quick replenishment of energy and fluids.
Learn more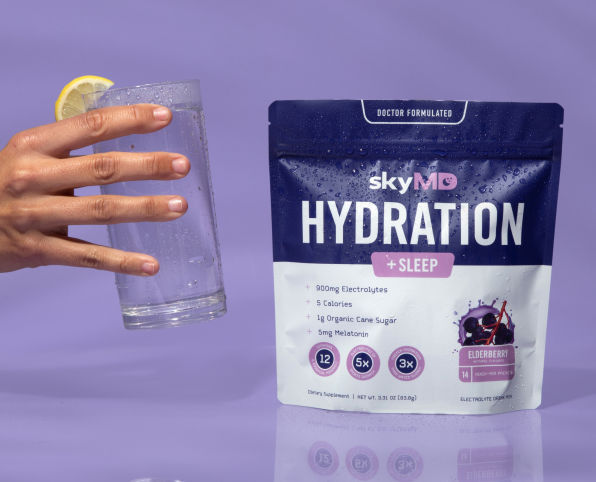 NO ARTIFICIAL COLORS, FLAVORS, OR PRESERVATIVES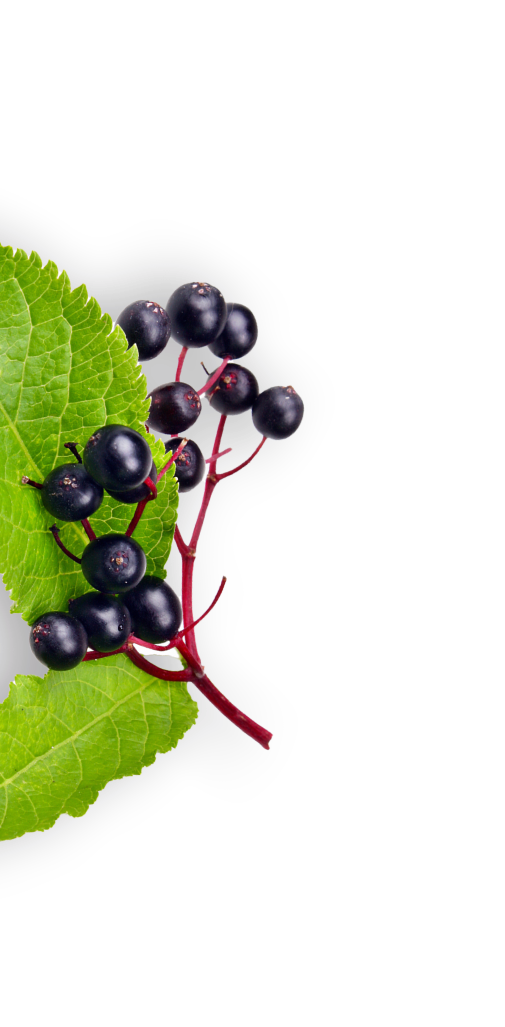 OUR REFRESHING REVIEWS I'm amazed by how this improves my sleep quality and leaves me feeling refreshed every morning.
Alex F. I was skeptical about its effectiveness until I tried heating it up like a cup of tea and had the best sleep I've had in years!
Victoria E. I woke up feeling rejuvenated and refreshed! It calmed my mind and I fell right asleep.
Natalie Y. My mornings used to be plagued by headaches due to dehydration, but ever since I began taking this every night, they've completely vanished!
Andrew K. Hydration + Sleep is a total game-changer! It helps me unwind and stay hydrated for a peaceful night's sleep. Love it!
Ella J. This stuff is like a cozy bedtime story for my taste buds. Works like a charm.
Zoe C. A cost-effective solution for better sleep and hydration. One packet is all it takes.
Jonathan A. SkyMD's hydration + sleep mix delivers on its promise. Better sleep, better hydration, and better days ahead.
Liam S.
Made with clean premium ingredients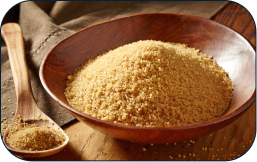 Organic Cane Sugar
Organic Cane Sugar is a natural alternative to white sugar, and contains more minerals and nutrients such as iron, calcium and potassium - all while delivering the same level of sweetness flavor. It is extracted from the sugar cane plant and produced with zero synthetic pesticides, herbicides or GMOs.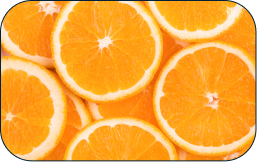 Vitamin C
Vitamin C is a powerful water-soluble vitamin that supports several critical functions inside your body. It is known best for its antioxidant properties which boosts your immune system, helping fight off infections to keep you healthy. Added benefits include supporting the synthesis of collagen which strengthens skin, bones and supports healthy skin while aiding iron absorption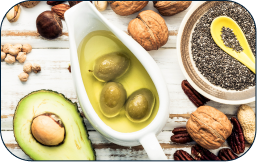 Vitamins B3, B5, B6 + B12
B-vitamins work to maintain your overall health. B3 (Niacin) is used for energy production, cholesterol regulation and can help maintain a healthy nervous system. B5 (Pantothenic acid) helps with hormone synthesis and overall skin health; B6 improves brain function and B12 improves nerve function.
Potassium Citrate
Potassium Citrate is the salt form of potassium that has a host of benefits, including overall electrolyte balance and acid reduction in the body. It is also recognized for helping kidney stone prevention.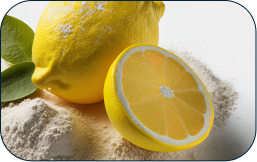 Sodium Citrate
Sodium Citrate contains many essential electrolytes to help maintain fluid balance and nerve function. It's commonly used as a flavor enhancer and acidity regulator for the body. It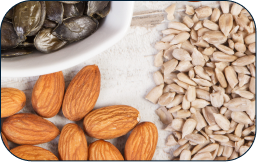 Zinc
Zinc is one of the super-heroes of essential minerals, and plays a vital role in various aspects of health and well being including general immune system support, synthesis of collagen, cognitive function, antioxidant qualities and overall cellular health.
Ionic Trace minerals Concentrate
Ionic Trace Minerals Concentrate is a dietary supplement that contains a blend of trace minerals, which are essential for various biological benefits in the body such as mineral supplementation, electrolyte balance, energy production and bone health.
Aquamin mg AG
Aquamin mg AG is a dietary supplement which combines the powers of magnesium and silver together. Magnesium is an essential mineral that plays an important role in many bodily functions and is vital for maintaining healthy bones, supporting bone density, improving muscle function, boosting metabolism and overall nervous system support.
Magnesium Chloride
Magnesium Chloride supports overall bone health, muscle relaxation, nervous system support, and numerous other bodily functions. It can help fulfill your body's magnesium needs while also aiding in digestive health, heart health and improving sleep quality.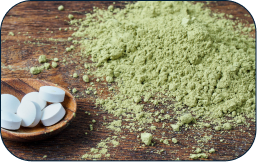 L-theanine
L-Theanine is an amino acid naturally found in tea leaves and is known for its calming properties. Key benefits include relaxation and stress reduction and anxiety reduction, as well as mental alertness and focus. It is known for helping improve overall sleep quality by helping you fall asleep faster and enjoy a disruption-free slumber.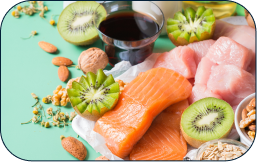 5HTP
5-HTP (5-Hydroxtryptophan) is a naturally occurring amino acid that is produced in the body and also used as a dietary supplement. It serves as a precursor for the production of Serotonin which plays a crucial role in mood regulation, sleep and more. It is commonly used as a natural mood enhancer by increasing serotonin levels in the brain and supporting sleep improvement.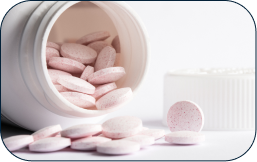 Melatonin
Melatonin is a supplement used to help regulate sleep patterns and manage sleep-related issues. It naturally helps your body regulate the sleep-wake cycle, contributing to overall improved sleep quality.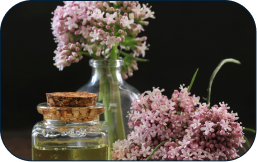 Valerian Extract
Valerian Extract is an herbal supplement derived from the root of the Valeriana officinalis plant. It has a long history of being used as a natural remedy for sleep-related issues, anxiety and stress due to its calming effects.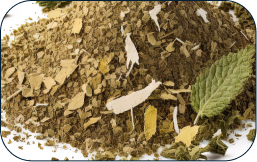 Organic Lemon Balm Powder
Organic Lemon Balm Powder is the powder derived from lemon balm, an herb within the mint family. It is known for its lemony aroma and widely used for promoting relaxation, anxiety reduction and can support an overall calm mood and mind, helping you fall asleep with improved sleep quality.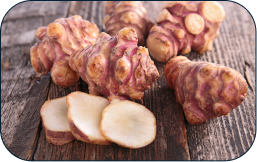 Jerusalem Artichoke
Jersuliam Artichoke is a root vegetable in the Sunflower family, and is regularly used to support gut health due to its robust fiber components. It also has additional benefits garnered from its vitamin components such as vitamin C, B and minerals like potassium and iron.
This product is rated 4.0 of 5.0 stars.
It has received 1 review.
Sky MD- Sleep & Sky MD Energy
The +Energy has been awesome. I can tell i don't get as tired or lethargic later in the day when I take it in the AM.
The one thing stopping from giving these products 5 stars is that they don't dissolve entirely. There is always some residue stuck on the sides of the mug after you drink it. Will order again.
5x electrolytes of sports drinks          DOCTOR APPROVED          3x faster hydration than water alone