Hydration
---
Boost Your Water With SkyMD Hydration Packets
Chances are, you're in the 75% of people who walk around in a constant state of hydration. Why? Because trying to reach peak hydration through water alone is next to impossible. But by boosting your water with SkyMD Hydration Packets, you can hydrate 2-3x faster. This is possible through our revolutionary Hydration Boost Technology - or HBT™. By combining the perfect balance of electrolytes, vitamins, and minerals, you can help your water work more efficiently. In fact, just one packet does what 3 glasses of water can do alone.
2-3x faster hydration than water alone
12 vitamins and minerals
4x the electrolytes of sports drinks
Rapid hydration delivery system
No artificial colors, flavors, or preservatives
Low sugar, tastes better! 
Feel Better, Perform Better
Whether you just want to feel better or you're looking to optimize your performance at work or in sports, our Hydration Boost is the solution for you. You can use our formulation to replenish vitamins, minerals, and fluids fast after a heavy night of drinking. Or, use it before and after sports to get yourself to peak performance and replenish lost fluids. You can even use SkyMD Hydration Boost to simply stay on top of your hydration goals in your everyday life - contributing to better skin, healthier joints, better metabolism, and increased mental clarity. Just 3-4 packets a day is all it takes to achieve peak hydration and stay there.
Targeted Formulations For Immunity, Sleep, & Energy
We've carefully crafted a few other formulations to help you achieve targeted benefits. These three formulations still offer hydration first and foremost but have been tweaked to offer secondary benefits - like an enhanced immune system, a deeper sleep, or a boost of energy. Explore all our hydration powder formulations below.
How Our Hydration Boost Formula Stack Ups Up To The Competition
Maybe you've tried other hydration formulations - but you've never tried anything that's comparable to our formula. With a fraction of the sugar and more vitamins, electrolytes, and minerals, you get more of what you need and less of what you don't. The end result is faster, more effective hydration without the sugar crash you may be used to. You can literally taste the difference in our formula. We use 69% less sugar than the alternative hydration packets. This contributes to a more natural, flavorful taste that will have you looking forward to the next packet. If you want all the benefits of a hydration formula without the sugar crash that follows, stick with SkyMD.
Sugar Cane Granular, Sodium Citrate, Citric Acid, Malic Acid, Natural Flavor, Ascorbic Acid (Vitamin C), Dextrose,  Dipotassium Phosphate, Magnesium (Aquamin®),  Silicone Dioxide (anti-caking agent), Himalayan Pink Salt, Rebaudioside A (Organic Stevia Leaf Extract), Acerola (Malphighia Glabra) Fruit Extract, Zinc (Bisglycinate Chelate), Niacinamide (Vitamin B3), D-Calcium Pantothenate (Vitamin B5), Pyridoxal 5'-Phosphate (Vitamin B6), Methylcobalamin (Vitamin B12)
Add 1 stick to 12-16oz of water and mix thoroughly before drinking. Take as needed to support hydration. Multiple servings can be consumed. Store in a cool dry place.
Hydration
Sale price

$23.95
Regular price

$25.00
(/)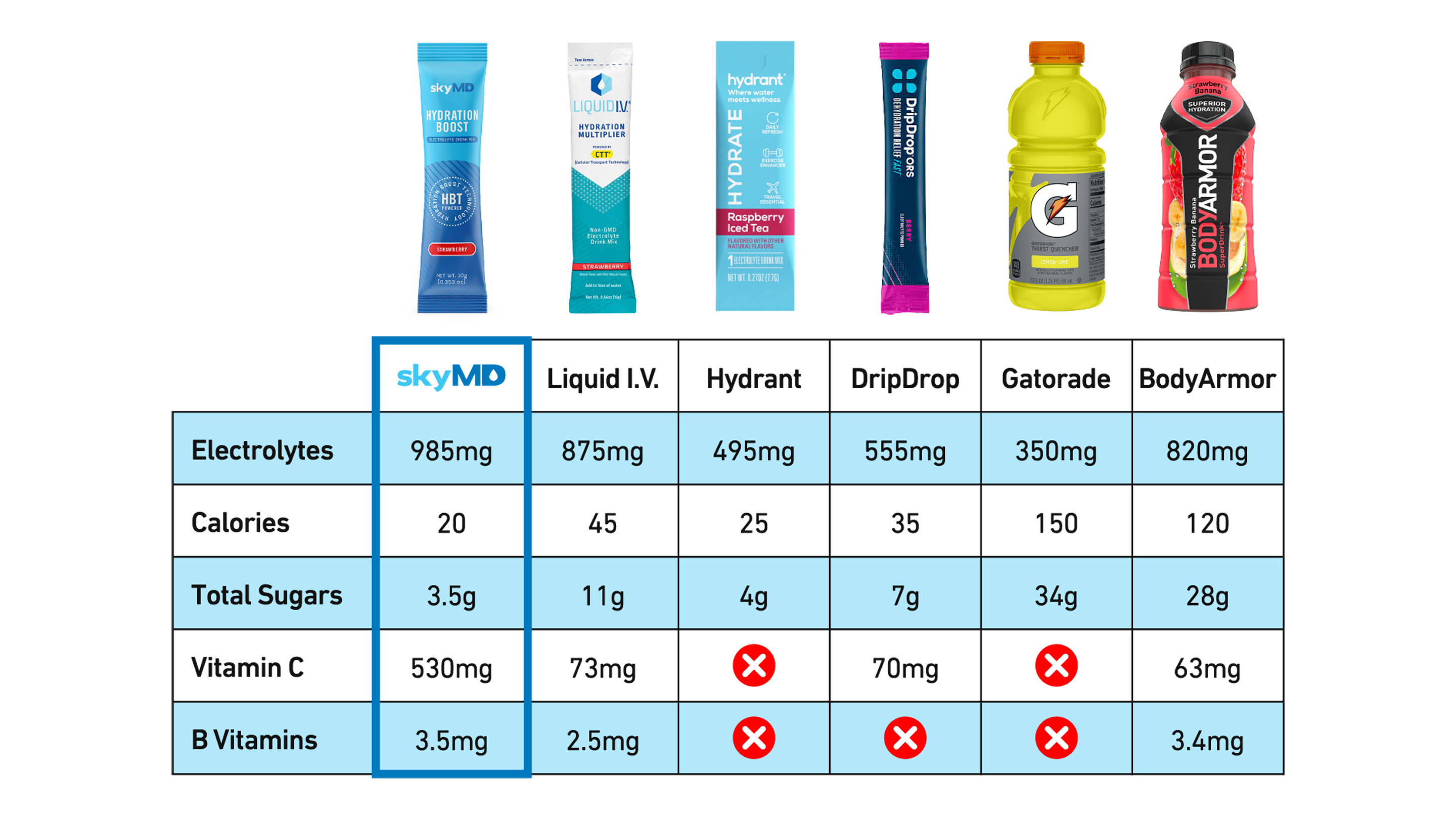 Are You Hydrated?
Only 1 in 4 people are properly hydrated. If you're feeling any of these symptoms this is probably you: fatigue, headache, dry mouth, confusion, muscle cramps and dizziness. So, why drink 3 glasses of water when you can drink one serving of Hydration Boost?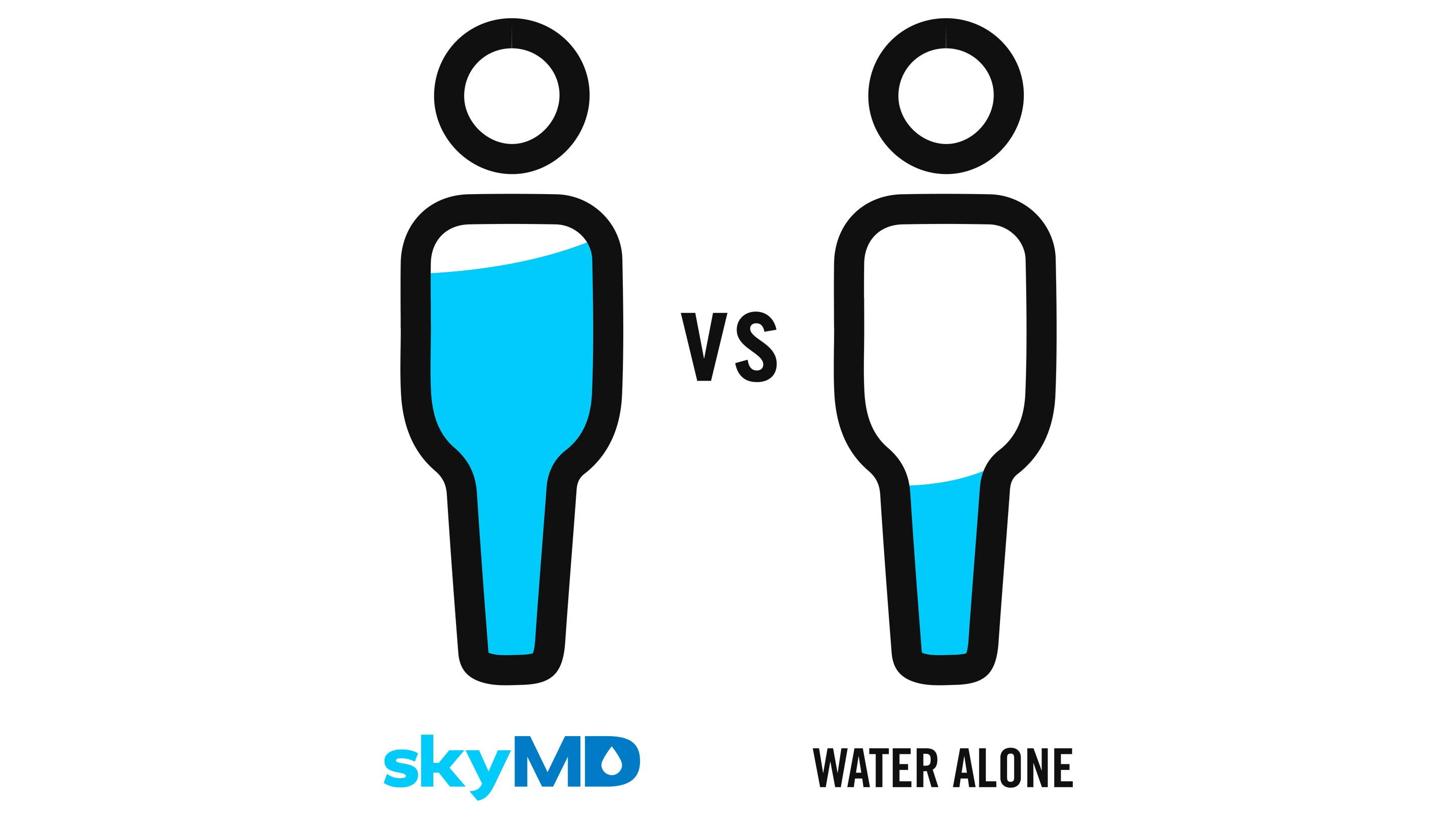 Feel Great. Fast!
Quench your thirst with skyMD Hydration Boost! It's found to help with muscle endurance, increased metabolism, improved complexion, enhanced natural energy and improved joint health.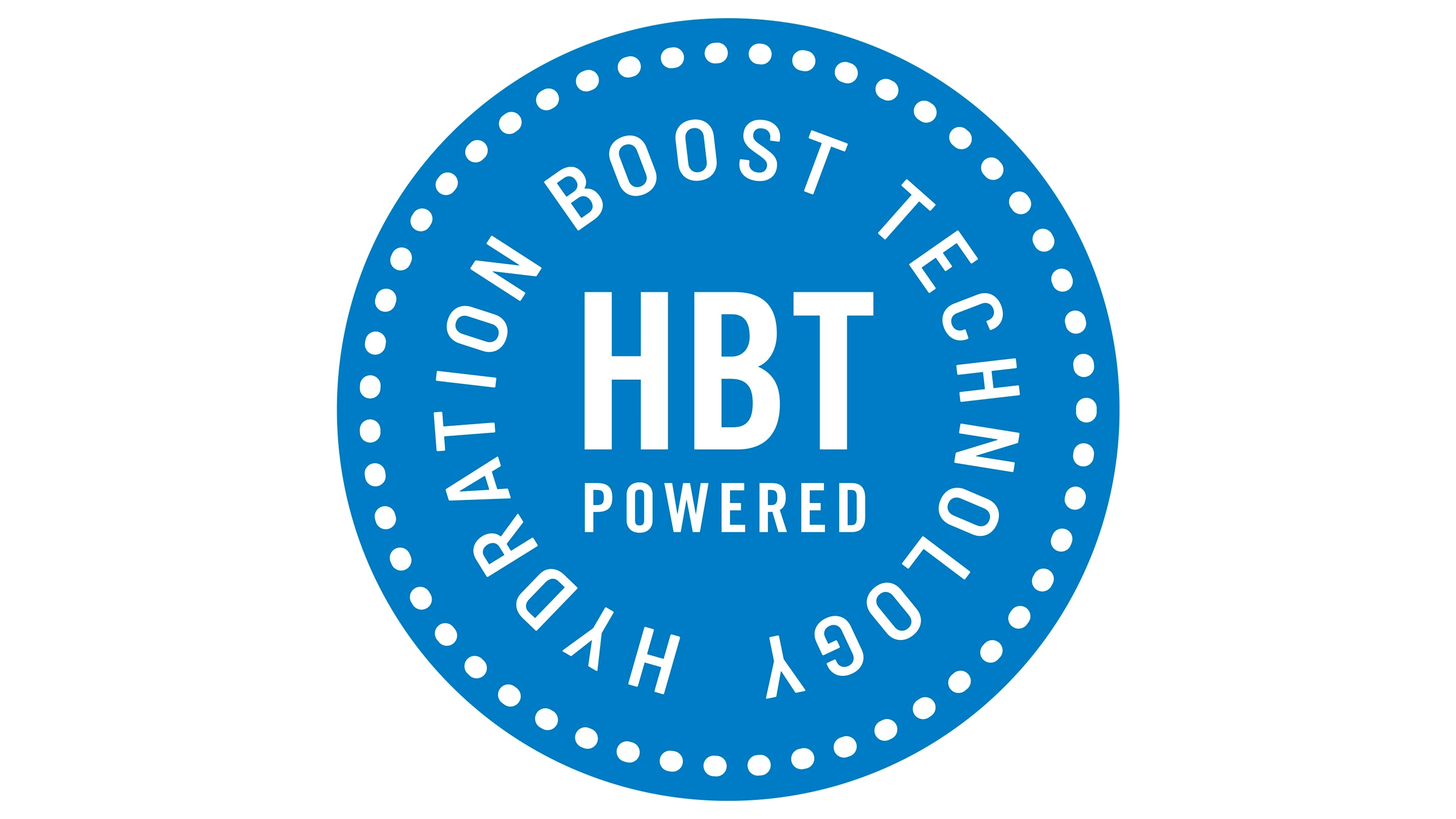 Hydration Boost Technology (HBT)™
Our advanced Hydration Boost Technology (HBT)™ is at the apex of wellness formulas with just the right balance of electrolytes and nutrients for optimal osmosis, delivering hydration to each cell in your body 2-3x faster than water alone.
Hydrated Customers
Exactly what I was looking for. Simple, clean taste and extremely hydrating. Found my tried and true. skyMD just gained a customer for life.
I've tried almost every electrolyte powder out there and all I can say is wow! I felt instantly energized – can't wait to try the other formulas!
Actually made a huge difference in my busy mornings. Tastes absolutely delicious and 100% does its job. Will be recommending this to everyone I know.
This product is rated 5.0 of 5.0 stars.
It has received 42 reviews.
Watermelon SkyMD
Fantastic taste! Dissolves well into the water… an absolute necessity while teaching golf lessons in AZ heat!
Product is great. I only got half my order though.
Great products fast shipping
As a delivery driver SkyMD Hydration Boost gives me what I need in a hot summer days
Does the job
I love to sauna and sky md really helps me get through my sessions and keep me hydrated after